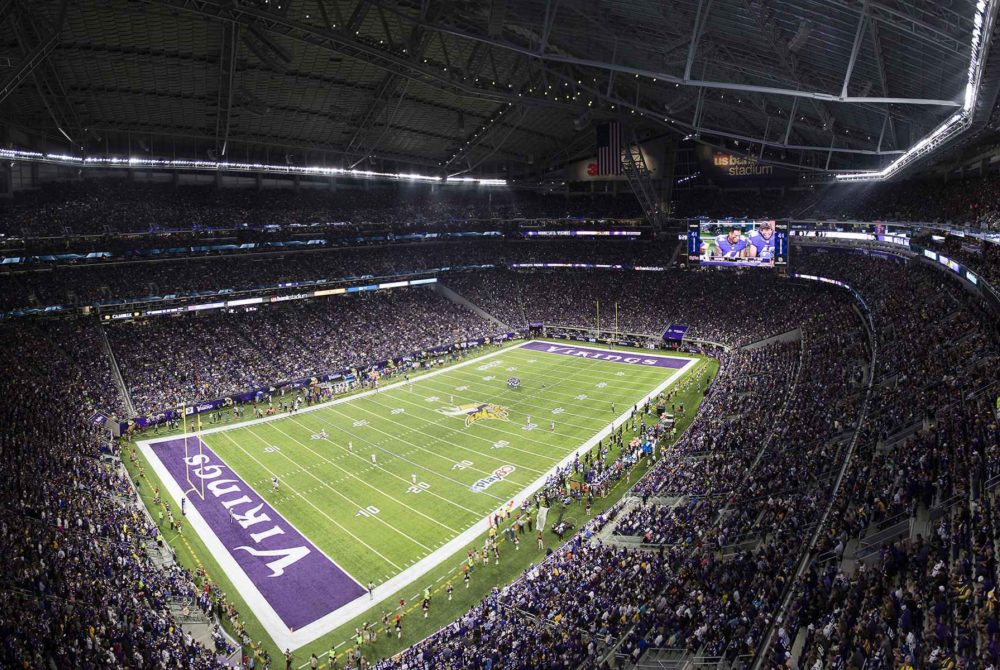 25 Jan

Advanced football stadium lights will illuminate the next three NFL championship games

Posted at 21:41h

in

Disabled Veteran

,

DVBA

,

Hubzone

,

Hubzone California

,

Hubzone Certified

,

Lighting

,

SDVOSB

,

VOSB

,

WOB

,

Woman Owned Business

,

Women Owned Small Business (WOSB)

,

WOSB

When two teams square off for the NFL championship on February 4, they'll compete under the bright lights of Minnesota's U.S. Bank Stadium, the first major sports facility to use LED lighting from the outset. As a result, players and fans — including 66,200 watching in person and millions more watching on high-definition television — will experience a big game unlike any of the previous 51 editions.

The last time the lighting industry pioneered major new technology for football stadium lights, Dick Butkus, Alex Karras and Ray Nitschke were terrorizing offenses led by future Hall of Famers like Gale Sayers, Bart Starr and Johnny Unitas. These stars helped transform pro football into America's favorite sport by 1965 (Pro Football Hall of Fame).

Meanwhile, metal-halide lights, released to the public in 1962, were already illuminating gridirons across the United States. Because they yielded a more natural color rendering index and used less energy than incandescent bulbs, many stadium operators rushed to adopt metal-halide lights for night games.

But the 1990 invention of the white LED marked the true beginning of the modern era in sports lighting technology. And 25 years later, high-performance stadium lights illuminated an NFL championship game for the first time, at Arizona's University of Phoenix Stadium.

Now, beginning with 2018, a minimum of three consecutive NFL championship games will be contested beneath high-performance LED lights. That's because the next three venues — U.S. Bank Stadium in Minneapolis, Mercedes-Benz Stadium in Atlanta and Hard Rock Stadium in Miami Gardens — feature advanced LED stadium lighting systems by Eaton's Ephesus Lighting. Mike Lorenz, president of Ephesus Lighting, says it's all part of a larger trend taking the sports world by storm.

"Facility operators and teams have seen how LED lighting enhances the game presentation, for both fans in the venue and those watching on high-definition television," he said. "This, coupled with cost savings, controllability and leaguewide goals of minimizing the green footprint of professional sports, makes LED lighting a logical solution."

Advanced LED lighting systems, like those pioneered by Ephesus Lighting, improve TV broadcasting in the 4K era and enhance the fan experience.

"The sports lighting solution at Minnesota's U.S. Bank Stadium represents one of the most complete systems currently installed in any professional sports venue," Lorenz said. "It allows for a host of innovative, entertaining and colorful lights shows for the fans. Additionally, all fans will see a better and longer halftime show (during the NFL championship game), as our system allows the stadium to go from complete darkness to light with the flip of a switch."

LEDs also lower long-term operational costs for stadium owners. Competitors benefit, too: increased clarity on the field helps a scrambling quarterback find the first-down marker or a sprinting receiver bring the ball down out of the sky.

For now, at least, indoor NFL stadiums are transitioning to LED lighting more quickly than their open-air counterparts. But Lorenz expects all NFL venues to adopt LED lighting systems within the next three to five years.

Until then, participants and fans alike will have to settle for LED lighting some of the time, depending on where their home games are contested. Meanwhile, when the last meaningful game until September kicks off in Minneapolis on February 4, the power of advanced stadium lighting systems will be on full display, the shining beacon of a bright future for sports venues.